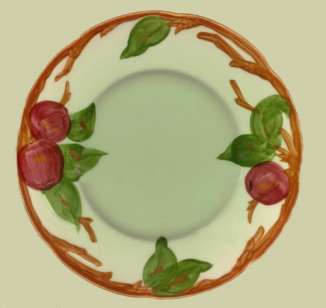 As a young woman, I began my china dinnerware collection because I loved my sister Martha's pattern. (Later, my future husband declared, "I know this pattern, I've eaten off it all my life. It's the same as my mother's.")

A woman selects her china pattern as carefully as she selects her personal fragrance. Mine is "Apple" by Franciscan. I love its cream-colored background with handpainted deep red apples, brown stems and light green leaves. And, I've always used it every day.

One of the banes of blindness is that I've found myself of late breaking a lot of my china pieces. I'll think they're secure on a surface only to find they've hovered on an edge and fall, shattering. I've lost cups and bowls, because I've set them in front of my microwave, then, not thinking, I pop its door open, knocking them to the floor.

In the movie "Sleepless in Seattle," the characters played by Meg Ryan and Bill Pullman are selecting their pattern for a store's bridal register. When the salesperson asks, "How many place settings?" they reply, in unison, "Ten. Eight is too few, 12 is too many." In my opinion, a woman can't be too rich or too thin and can't have too many place settings.

This reflects the Southern tradition of large family get-togethers. There was a time when I would feed the entire newsroom and half the backshop – buffet style - in my small apartment. As long as guests have big, heavy dinner plates, they can eat sitting in the stairwell or on upstairs beds. The more, the merrier.

Last night, I ventured onto froogle.com to find a good price on replacing my broken china pieces. A link led me to the fascinating history of Franciscan pottery and china in the United States. That piece of Americana led me to a forum where various pattern owners were speculating about the danger of lead content in Franciscan dinnerware.

Well, that's knowledge I could have done without. I've always believed if china is properly glazed, lead is no problem. These gals were suggesting the lead is "leached" from the glaze itself.

Better to avoid serving acidic foods in the Franciscan dishes, they said. (Oh, Lord!) And, never use them in the microwave! Well, since I've been doing both for many years, I suppose it's too late to be paranoid about it.

Still.

Franciscan's "Apple" and "Desert Rose" are the two most popular china patterns in the world, and it would be nice to know they're safe.

And so, dear readers, I'm depending on you. Anyone have an idea which government agency would be responsible for my safety with regard to the lead in my china?

Equally rattling is the fact that Franciscan dinnerware is now manufactured in China and other places in the Orient, where U.S. safety regulations no longer apply. Surely, someone is responsible for the safety of such imports to America.

Old habits die hard, and I got up this morning and heated cold coffee – in my china cup – in the microwave, just as I've done for as long as there have been microwaves. I want my morning coffee first thing and would inject into my veins if I could.

Any ideas about that government agency?